Shattered Realms: Mortal Tale
Week 17 Devlog: A Lull and Plans
---
So in contrast with last week's update release, which is attached (we can use some playesters, feedback is incredibly important to us), this week has been a bit of a 'vacation' as the only things I have done is design cutscenes for the Levisa story.
The other reason progress has been still is a bit more complicated. It's the holiday season and both me and the main artist are hard at work in retail/services that doesn't stop for the holidays. Some of the plans I originally had had involved some story scenes but that will take a bit. For the moment it's up to me to find alternatives.
Before that here is the new art for the Levisa story but be advised, spoilers if you haven't played the game. Scroll down to the plan list further down.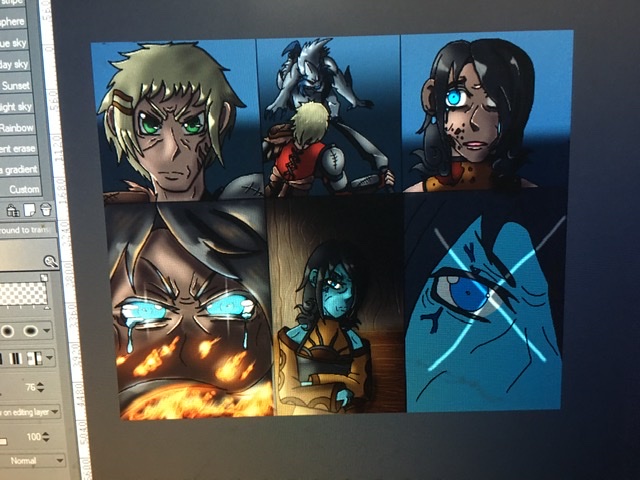 While we wait for better schedule opportunities, here's a roadmap of the next few updates.
1.0.3 December- Early January
Revamp Dialogue Boxes and the windowskin
Create unique Main Menu using combo of Luna Engine and picture events to make game stand apart from default style.
Character Busts with varying emotion variations instead of facesets
New Interact Menu Option allowing for something like the Fire Emblem support conversations. These interactions will unlock character specific sidequests and unlock unique skills.
Mieva Sidequest
Iskar Sidequest
Alchemist Store Mechanic and Sidequest/s
New Small Dungeon?
Ice Demon Boss, Saliden Village Final Boss, and Final Boss difficultly readjustment
Saliden Village story revamp
New Optional Boss in Sacred Valley before Saliden
[Potentially] new story routes
1.0.4 Late January- February
Portable Boat Mechanic
Water Based Enemies
New Post Game Equipment
New Dungeons that contain parts of a set tailored towards Lighting Damage and Water Resistance
Leviathan Overworld Bosses [First Leviathan will unlock subsequent encounters in water based areas]
Aquamancy
Flaming Shambling Mound Difficultly and Unique Skills/Gear
New Aquatic Areas requiring boat travel to access
More Content Updates TBA
Files
SR:MT Tech Demo 1.0.2
506 MB
Dec 08, 2019
Get Shattered Realms: Mortal Tale